Global award showcases Bishop-McCann's culture focused on creating JOY
Kansas City, Mo. (August 22, 2023) – Bishop-McCann, a worldwide leader in the meetings, incentives, and events industry, is now Certified™ by Great Place To Work®. The prestigious award is based entirely on what current employees say about their experience working at Bishop-McCann. This year, 91% of employees said it's a great place To Work – 34 points higher than the average U.S. company.
Great Place To Work® is the global authority on workplace culture, employee experience, and the leadership behaviors proven to deliver market-leading revenue, employee retention, and increased innovation.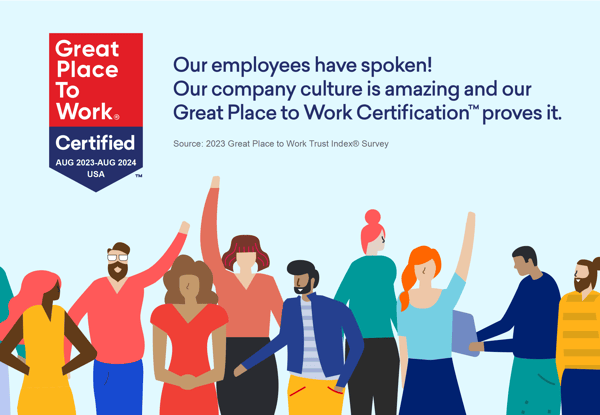 "Great Place To Work Certification is a highly coveted achievement that requires consistent and intentional dedication to the overall employee experience," says Sarah Lewis-Kulin, the Vice President of Global Recognition at Great Place To Work. She emphasizes that Certification is the sole official recognition earned by the real-time feedback of employees regarding their company culture. "By successfully earning this recognition, it is evident that Bishop-McCann stands out as one of the top companies to work for, providing a great workplace environment for its employees."
"Covid deeply impacted our entire industry, an industry which consistently ranks as one of the most stressful. That's why we are devoted to creating a work environment that takes care of the whole employees – including their mental health, physical health, and their commitment to the community," said Rob Adams, Bishop-McCann President and Co-Owner. "We are committed to "creating JOY" among our team, vendors, industry partners, and clients. It's an honor to receive this global recognition for our hard work and dedication to building our company culture."
"From our Project JOY, in which employees receive days off of work to volunteer in the community to our flexible work environment, unlimited vacation, and generous sabbatical program, we are passionate about creating the best possible work environment for our team, which is spread across the country," said Melanie Maddock, SPHR, Vice President, Talent & Culture. "It's humbling to have our passion for building a strong culture, and our years of hard work and dedication to our team, on display with this global certification."
According to Great Place To Work research, job seekers are 4.5 times more likely to find a great boss at a Certified great workplace. Additionally, employees at Certified workplaces are 93% more likely to look forward to coming to work and are twice as likely to be paid fairly, earn a fair share of the company's profits, and have a fair chance at promotion.
For more information, visit bishopmccann.com.
About Bishop-McCann:
Bishop-McCann is one of the global leaders in producing meetings, incentives, and events. For the past 15 years, MeetingsNet has named Bishop-McCann to its CMI 25 list, which highlights the largest and most influential corporate, full-service meeting and incentive travel management companies in North America. The Bishop-McCann team executes all aspects of meeting and incentive travel planning, including event strategy, hotel procurement, air travel, event logistics, keynote speakers and entertainment procurement, event technology, meeting measurement, and experiential marketing.
About Great Place to Work Certification™
Great Place To Work® Certification™ is the most definitive "employer-of-choice" recognition that companies aspire to achieve. It is the only recognition based entirely on what employees report about their workplace experience – specifically, how consistently they experience a high-trust workplace. Great Place to Work Certification is recognized worldwide by employees and employers alike and is the global benchmark for identifying and recognizing outstanding employee experience. Every year, more than 10,000 companies across 60 countries apply to get Great Place To Work-Certified.
About Great Place To Work®
As the global authority on workplace culture, Great Place To Work® brings 30 years of groundbreaking research and data to help every place become a great place to work for all. Their proprietary platform and For All™ Model helps companies evaluate the experience of every employee, with exemplary workplaces becoming Great Place To Work Certified™ or receiving recognition on a coveted Best Workplaces™ List. Learn more at greatplacetowork.com and follow Great Place To Work on LinkedIn, Twitter, Facebook and Instagram.
MEDIA REQUESTS:
Mary Prevost
Public Relations
612-202-3047
mary.prevost@bishopmccann.com