Global award showcases Bishop-McCann's culture focused on creating JOY
Bishop-McCann, a worldwide leader in the meetings, incentives, and events industry, is now Certified™ by Great Place To Work®. The prestigious award is based entirely on what current employees say about their experience working at Bishop-McCann. This year, 91% of employees said it's a great place To Work – 34 points higher than the average U.S. company.
Great Place To Work® is the global authority on workplace culture, employee experience, and the leadership behaviors proven to deliver market-leading revenue, employee retention, and increased innovation.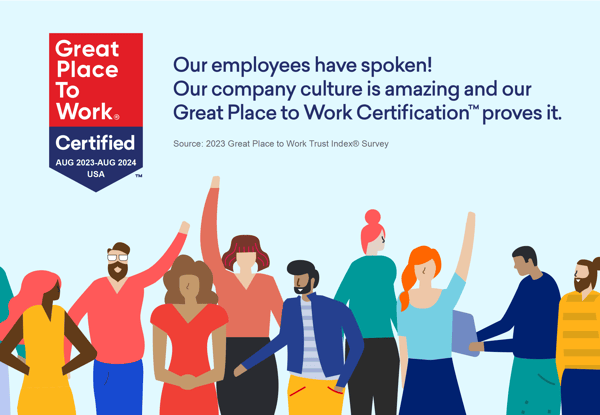 "Great Place To Work Certification is a highly coveted achievement that requires consistent and intentional dedication to the overall employee experience," says Sarah Lewis-Kulin, the Vice President of Global Recognition at Great Place To Work. She emphasizes that Certification is the sole official recognition earned by the real-time feedback of employees regarding their company culture. "By successfully earning this recognition, it is evident that Bishop-McCann stands out as one of the top companies to work for, providing a great workplace environment for its employees."
"Covid deeply impacted our entire industry, an industry which consistently ranks as one of the most stressful. That's why we are devoted to creating a work environment that takes care of the whole employees – including their mental health, physical health, and their commitment to the community," said Rob Adams, Bishop-McCann President and Co-Owner. "We are committed to "creating JOY" among our team, vendors, industry partners, and clients. It's an honor to receive this global recognition for our hard work and dedication to building our company culture."
"From our Project JOY, in which employees receive days off of work to volunteer in the community to our flexible work environment, unlimited vacation, and generous sabbatical program, we are passionate about creating the best possible work environment for our team, which is spread across the country," said Melanie Maddock, SPHR, Vice President, Talent & Culture. "It's humbling to have our passion for building a strong culture, and our years of hard work and dedication to our team, on display with this global certification."
According to Great Place To Work research, job seekers are 4.5 times more likely to find a great boss at a Certified great workplace. Additionally, employees at Certified workplaces are 93% more likely to look forward to coming to work and are twice as likely to be paid fairly, earn a fair share of the company's profits, and have a fair chance at promotion.