MeetingsNet, a digital magazine and website dedicated to the meetings and incentives industry, has named Kansas City-based Bishop-McCann to its 2023 CMI 25 list, which highlights the largest and most influential corporate full-service meeting and incentive travel management companies in North America.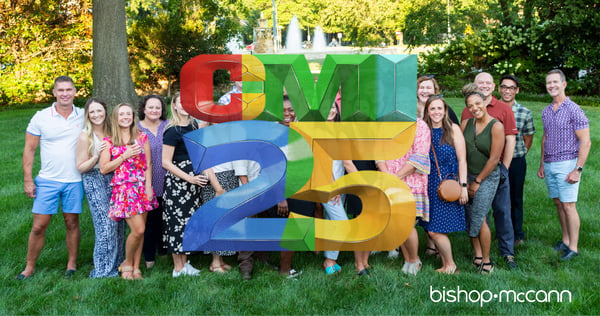 This is the 16th consecutive year that Bishop-McCann—a worldwide leader in the meetings, incentives, and events industry—has been included on this list.
"This award showcases the resiliency of our team and the strong culture we've built within Bishop-McCann," said Rob Adams, Bishop-McCann President & Owner. "It's also a testament to the strength of our client relationships, and our focus on creating 'JOY' by delivering the absolute best experiences for our clients across the globe."
"The volume of meetings handled in 2022 was below levels seen pre-pandemic, but represented an amazing rebound from 2021," said MeetingsNet Content Director Sue Hatch. "For example, the median number of room nights booked for meetings and incentive travel jumped from 26,761 in 2021 to 138,894 in 2022. These companies are not just survivors—they're growing, innovating, and building partnerships to drive success in today's new market conditions. The CMI 25 report includes statistics on business volume, company news briefs, and executive commentary, giving readers a sense of the focus, strengths, and size of these major third-party firms."
Bishop-McCann retains a network of employees and suppliers around the world, with an additional office in Chicago. Adams serves on the Meetings Professional International (MPI) Board of Trustees, the world's largest meetings and events industry association, and he was named one of the top 25 influencers in the meetings and events industry in 2019. Bishop-McCann was also selected among hundreds of nominations as the winner of the Cvent CONNECT Pivotal Partner – Partner of the Year award. Additionally, Bishop-McCann is now Certified™ by Great Place To Work® and received this prestigious award based entirely on what current employees say about their experience working at the company.
The CMI 25 list is published in the September/October 2023 issue of the MeetingsNet digital magazine (http://www.meetingsnet.com/digital-edition), and on www.meetingsnet.com.